Spanish Comparatives Lesson
Spanish comparatives is often a very difficult subject for students. So I got to thinking and let's face it, learning is always more fun when food is involved! So when my 7th graders were a bit confused with Spanish comparatives I decided we needed to do something that would really help them understand and remember the concepts. I chose Skittles because they are more allergy-friendly than M&Ms (which often contain traces of nuts).
First, we began with a quick lesson/review of Spanish Comparatives. There are lots of great resources for teaching this concept, so you can use whatever works best (textbook, YouTube video, PowerPoint, etc.) For example, here is a chart from Woodward Spanish that I really like: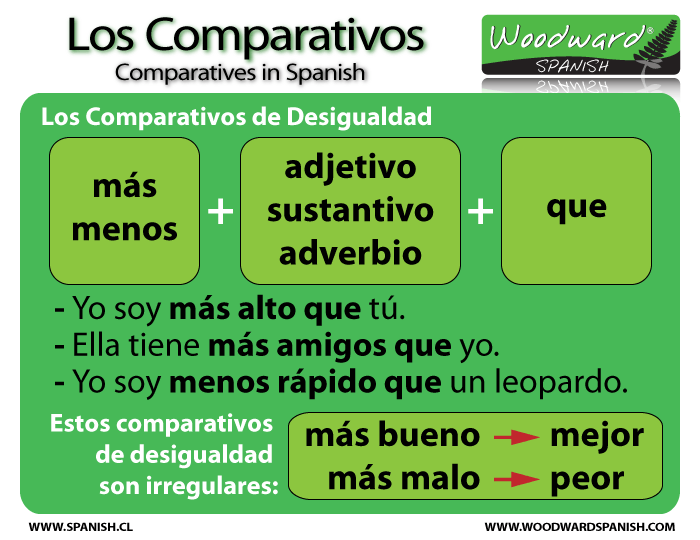 Time for Skittles!
Then, after we covered the basics, it was time to practice what we learned. Thus, here come the Skittles! I bought 2 large bags of Skittles and some great individual ziploc bags (the portion control ones are perfect)! 40 Skittles in each bag worked well (but you can use however many you want) and gave one bag to each student.
In addition, I also gave each student a copy of this Spanish Comparatives worksheet (click to get your copy with full instructions from my Teachers Pay Teachers Store):
I instructed the students to first divide their candy into piles by color (and not to eat them yet), and then to use the piles to complete the worksheet, first comparing their own Skittles and then comparing with a friend. Afterward, students ate the Skittles (of course)! 🙂
This first part took about 1 class period (40 minutes). Additionally, the next day in class we discussed the findings and charted the comparisons. We used Google to create a spreadsheet and then an accompanying graph.
My students had a ton of fun with this lesson, and the best part was that they really understood the concept. If you try this lesson I would love to hear how it goes! Please come back and leave a comment!