I cannot express how much fun I have been having (not to mention how much I am learning!) exploring other blogs by wonderful women! Blog Hopping and linking up with other sites is informative and FUN! I am going to continue sharing the ones I find here so you can all benefit from them as well! Please visit them and leave a comment so they know you stopped by! Have a wonderful, safe, holiday weekend!
Today's featured blog hops and link-ups:

Visit Bruna's Blog, Bees with Honey, for musings from an elementary school teacher in Vancouver, British Columbia. Bruna loves to share "what inspires me, what I enjoy, what I'm up to ~ at the same time ~ also sharing the challenges I face trying to balance a career and a home life." Let's Bee Friends Friday is a weekly meme Bruna hosts. It's a great way to find new blogs and meet new friends. Join her every Friday by linking up a favorite post and exploring all of the fabulous blogs and posts entered by several guests!
Feed Me Friday is a blog hop designed to help bloggers increase their email subscribers and is hosted by Oh So Savvy Mom and From Chalkboards to Strollers. Oh So Savvy Mom writes about adventures in mommy-hood and to get the word out about recently discovered products. From Chalkboards to Strollers is written by a 2nd grade teacher turned stay-at-home-mom. Make sure to follow these great ladies on Google Friend Connect (GFC) and subscribe to their email lists!
Finding New Friends Weekend Blog Hop is hosted by Shelly from My Saving Game and Jeannette from The Adventures of J-Man and MillerBug! Shelly is a mom and a wife learning how to save money anyway possible. Jeannette is a momma who left the corporate world to raise her sons and be CEO of her household. Her blog chronicles her daily life with them; the highs, the lows and everything in between.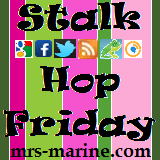 Make sure to visit Stalk Hop Friday – I have posted about this one in the past!! New people/blogs join each week so it won't be the same old same old! 🙂 Meet new people, discover new blogs, and learn something new!